El Ubérrimo Coffee Profile
Producer
Francy Liceth Castillo
Notes
Apple, Kiwi, Tangerine & Honeysuckle
About the Producer
El Ubérrimo farm is operated by Francy Liceth Castillo in the Nariño Department of Colombia. Ubérrimo refers to the abundant production of the crops on the farm, which is a project shared primarily between Francy, her parents, and her five sisters.
This lot of Gesha coffee underwent Washed processing. Harvested cherries were dry fermented for 72 hours prior to being depulped. The pulped coffee is then fermented with honey for 72–96 hours in a biodigester. The fermented coffee is then fully washed and dried in the sun for 15–20 days.
We recommend with El Ubérrimo...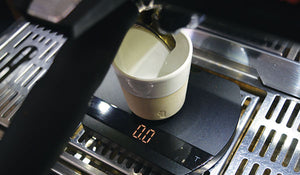 Get the right gear
We have all the equipment you need for your filter coffee; whether that be V60, AeroPress, Grinders or simply just a top up of filter papers!
Shop Gear →
Improve your brew game
Learn how to get the most out of your coffee at home with our Home Brewing Masterclass!
Sign Up →