Marcela Valle Coffee Profile
Varietals
Obata & Parainema
Notes
Milk Chocolate, Orange & Honey
About the Producer
When the beans are picked, they are first depulped and left in water for a few hours. After that, they are washed to remove floating, and any other beans, that do not meet requirements. Once the beans are washed, they are dried on the patio, for at least a full day or two depending on the weather.
After this, the beans are moved to the solar dryer. Because it's relatively fresh in the area (in the middle of a high-altitude pine wood), it takes at least 15, but often up to 25 days to give the beans enough time to reach the desired humidity ready for export.
We recommend with Marcela Valle...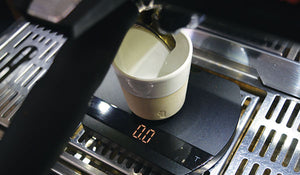 Get the right gear
We have all the equipment you need for your filter coffee; whether that be V60, AeroPress, Grinders or simply just a top up of filter papers!
Shop Gear →
Improve your brew game
Learn how to get the most out of your coffee at home with our Home Brewing Masterclass!
Sign Up →