Our Sustainability
At Quarter Horse Coffee, we have always sought after environmentally friendly alternatives and materials, but we wanted to take a step further with our by making all of our retail and wholesale pacakging either fully biodegradbale or recyclable at home.
---
Eco-Friendly Retail Packaging
Rest assured that you're buying green with our standard 250g boxes; 100% plastic free, including a plant-based compostable inner sleeve, and biodegrable stickers.
Retail Boxes
100% Plastic Free.
Despite our previous bags being recyclable, the process was not always widely available, so we made the decision to switch to more environmentally friendly, biodegradable, and more accessibly recyclable boxes.
Inner Sleeves
Less than 26 weeks to breakdown when composting at home.
These pouches are made from renewable materials including paper, eucalyptus fibre, cassava and corn starch and will breakdown over time without leaving behind any toxic materials or waste.
Letterbox Friendly
No more redeliveries or missed deliveries.
Our new retail boxes have been designed for 2 boxes to fit neatly right through your letterbox.
All made from 100% natural materials
Retail boxes are made from recyclable paperboard with no plastic lamination coating
Both components are 100% biodegradable & recyclable
Our inner sleeves are 100% compostable at home
Composting returns back into water, carbon dioxide & biomass
Orders up to 500g are letterbox friendly to avoid missed & unnecessary extra deliveries
Why no valve?
In order to fulfil our ambition for sustainable packaging, we removed the non-compostable plastic valves from our packaging, and after much taste-testing, overall we found our coffee performed better from non-valved bags. Read more about our decision in our faqs.
In the meantime, why not browse our best selling coffees...
---
Sustainable Coffee Subscriptions
We're proud to have one of the most environmentally friendly coffee subscriptions in the UK!
Fill your new coffee beans in your reusable food-safe tin.
Each tin holds up to 250g and will keep your beans (or ground coffee) fresher for longer.
Simply swap your peelable label over to your tin, and don't forget to recycle your retail box and compost your inner sleeve.
Labels not coming off easily? Let us know and we'll include an extra one in your subscription notes.
Get yours now!
Keep your beans fresher for longer and enjoy a discount if you have a subscription with us!
Buy Now →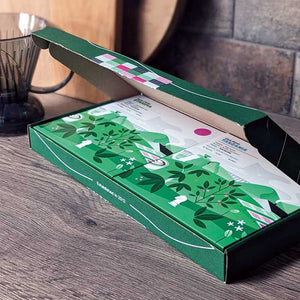 Subscribe & Save
Enjoy discounted prices on recurring deliveries at a frequency of your choosing.
---
Green Coffee Production
We're making strides to ensure we're trying roasting coffee in a sustainable and responsible manner.
Eco-Friendly Vortx
Our 'afterburner' uses a high efficiency cyclone and the power of atomised water to capture almost half the CO2 and greatly reduce the amount of smoke, VOCs & particulates produced as a result of roasting.
✪ First demo site in the UK
Read More →
Stronghold S9X Roaster
All our filter coffees are roasted on our new 100% all-electric, shorter pre-heat roaster, dramatically reducing our reliance on natural gas in our productivity.
✪ First in the UK
Read More →
Solar Powered
We have installed solar panels on our new production site in the Jewellery Quarter. The power generated fully charges our electric vehicle every week, and offsets some of the power required to roast on the Stronghold and run the building.
Read more about our coffee roastery and how we're making efforts for a more eco-friendly production.
---
Conscious Wholesale Deliveries
We're making efforts to reduce our footprint for our wonderful wholesale customers & partners.
Coffee Packaging
Our kilo bags are 100% fully recyclable (♻4). 
Our bags for wholesale and large retail orders are made from a 100% carbon-neutral mono-material which is fully recyclable. Be sure to check with your local council guidelines.
Reusable Coffee Tins
Reducing plastic & cardboard usage.
On our aim to cut down excess usage materials, we deliver wholesale orders in our 5kg reusable tins to our local customers around the Midlands.
Electric Powered Local Deliveries
100% Electric Vehicle.
We offer free local deliveries to our wholesale customers around Birmingham and the Midlands in our fully electric van.
Read More →