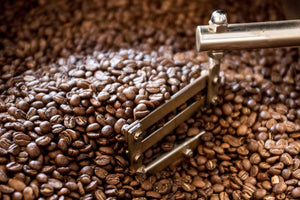 Roasting Coffee with 100% Electricity
Cutting down our reliance on natural gas when roasting coffee.
Efficient & Electric Roasting
We're now roasting all our single origin filter coffees on our Stronghold S9X all-electric coffee roaster. Designed for maximum efficiency, producing more consistent and eco-friendly roasts.
Stronghold
S9X
Unparrelled in size and class in the all-electric market, our S9X makes for some of the most efficiently roasted coffee in the country.
Roasting up to 8kg at a time, the S9X ensures durability and consistency with every roast – without the reliance of fossil fuels.
What are the benefits?
Pure Electric
Safer, faster, and more efficient roasting without the operating and environmental costs of gas.
Shorter Preheater Times
Faster preheating equals more roasting time; with the ability to roast up to 32kg per hour.
Greater Consistency
The S9X achieves more even & consistent roasts with the world's first triple heat system.
Unique Triple Heat System
Conductive Heat
An agitating blade pushes the coffee beans from centre, to the far edges of the drum, to ensure the heat is spread evenly across the batch.
Radiant Heat
The radiant heat from halogen lamps penetrate more energy through the coffee, resulting in a more developed bean inside and out.
Convective Heat
Hot air circulates throughout the drum and transfers heat to every bean for a more even heat distribution.
We're always looking for new ways to go green.
We're proud to continually push ourselves to make environmentally better choices; from roasting, packaging and brewing coffee.
Read more about our other efforts for a more sustainable future at Quarter Horse Coffee.
Sustainable Coffee Subscriptions 🌱
Our all electric roasting, and sustainable packaging makes for one of the most environmentally-friendly coffee subscriptions on the market.
Get Started →