Komala Coffee Profile
Varietals
Catuai, S795 & SLN 6
Notes
Starfuit, Apple, Lime & Caramel
About the Producer
Nestled in the lush green hills of Kodagu district in Karnataka state of India, Komala estate, owned by Shyam Ponnappa, has the ideal agroclimatic and topographic conditions for cultivation of Arabica coffees. The area is in temperate zone of the country experiencing four distinct seasons. 
Shyam, a third-generation owner of the property, has expertise in improving plant health and yield, which includes replanting of old Arabica with new selections under drip overhead irrigation. The ripe berries are selectively handpicked by a team of trained women who have been on the property since Shayam's parents' time. The harvested crop is carefully picked over to remove any unripe fruits. 
We recommend with Komala...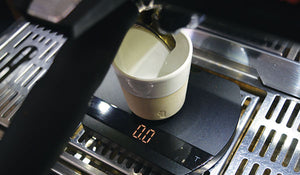 Get the right gear
We have all the equipment you need for your filter coffee; whether that be V60, AeroPress, Grinders or simply just a top up of filter papers!
Shop Gear →
Improve your brew game
Learn how to get the most out of your coffee at home with our Home Brewing Masterclass!
Sign Up →